It seems I'm on a kick this week talking about writers and about books being published online, and I  think this is a good thing–in fact, I think for the next while I might write a blog post every week or so about an ebook I've found that was an interesting read. There are so many choices out there that no matter what a person prefers–humor, science fiction, vampire tales, historical romance, non-fiction or chick-lit, there are free or low-cost ebooks available online to fit the bill.
Today I want to mention a novel that my wonderful sister-in-law (remember Faye–the one who braved the seas with me on our cruise to Hawaii?) published recently. This novel is titled 'Defining Moments' and it is a book that I've read at least several times along the way to it becoming published.
In the manuscript's early days Faye asked me to critique a draft of it and offer my thoughts and suggestions; thus began my small role in seeing Defining Moments come to fruition. So I admit up front that I'm not exactly unbiased when it comes to promoting this work, but that's okay with me as long as I'm honest in what I write, and I am.
I enjoyed the story line and the characters in Defining Moments and can even imagine the book being made into a movie one day, hopefully in the not-too-distant future. And then won't it be fun to say that we all knew it was destined for greatness!
Defining Moments Extended Description on the Smashwords site says this:
'Defining Moments' is the story of Ellie Ward, a professor with a knack for making bad decisions at life's crossroads, often with tragic consequences. At the age of nine, Ellie accidentally discovers a time portal near her childhood home, one that opens to her in situations of extreme trauma and emotion. Passing through the portal takes Ellie back in time to the key decision points that lead to her life's tragedies, enabling her to change those decisions and avert the crises. The downside is that she never has any idea what the specific 'defining moments' were, and so she never knows how much of her life she is going to have to repeat to undo a bad situation. 
River ice studies take Ellie to a remote town in Canada's Northwest Territories, where she agrees to go along with three other people in a tiny, single engine plane to scout for ice jams. Ellie's decision not to insist that they turn back before venturing too far from town becomes another defining moment in her life when their engine fails and they crash land in the bush. As the only able-bodied survivor Ellie's graduate student, Brenda, must take on the burden of keeping the others safe as they wait for help to arrive. Fearing that Brenda will crumble under the emotional strain, Ellie shares her personal journal as a diversion. As the hours of waiting turn into days, Brenda immerses herself in Ellie's autobiography, and we join with her in reading of Ellie's multiple lives, loves, careers, passions and losses. Brenda is astonished to read that her professor has managed to go back and reverse those bad decisions that resulted in tragic outcomes. Is this actually possible, or is Ellie's journal just a work of fiction? And if it is possible, and Ellie has found a way to rewind the clock to each defining moment in her life, will she live to get the chance to do it this time?
Here is a great picture of my sister-in-law Faye, along with a short bio about her, also from the Smashwords site: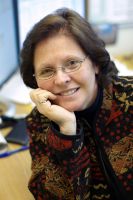 Faye is an engineer and professor who studies ice jams in northern Canada. Over her 22 year academic career, Faye has published more than 100 scientific articles and papers and has given dozens of invited lectures to colleagues in Canada, the U.S. and even in Siberia. "Defining Moments" is Faye's first novel. She also writes creative non-fiction on her blog at (fayehicks.wordpress.com) and instructional articles for online magazines. Faye lives on an acreage near Edmonton, Alberta, Canada with her husband, Les, and their furry family of rescued cats and dogs. Faye is currently working on her second novel and continues to work as a professor and engineer.
When I decided that I would feature Faye and her first novel in one of my posts, I thought it might be interesting to do a short 'question' and 'answer' with her, so I prepared a few questions and sent them to her in Alberta and before I could say, "My goodness, winters are cold here in Canada," Faye answered the questions and emailed them back to me. So here they are, just as they were written and received:
1. Where did your initial idea for the story come from?
I've always been intrigued at how seemingly innocuous decisions can end up changing a person's entire life.   Also, I enjoy books with just a tiny hint of the paranormal in them, so I thought it might be fun to write a story that blended these two ideas.
 2. How long had the story Defining Moments been percolating in your mind before you sat down to write it?
Years actually – I tend to write that way.  I mull things over in my mind for a long time before I finally sit down at the computer to put ideas into words.
 3. You are a professor of engineering and so is your protagonist–do you see pieces of yourself in her character?
Well – we both definitely spend way too much time flying around in small planes and neither of us really enjoys it very much!  However, Ellie is much thinner and better looking than me.  As a result, she's led a far more interesting life.
4. How long did it take you to write your book?
In terms of time actually spent in front of the computer, it probably took me around 4 to 5 months.  However, because I wrote most of it on my summer and Christmas vacations, that 4 to 5 months was spread out over about 5 years.
5. I read a comment from one of your readers that said she is looking forward to the sequel–do you see a sequel to Defining Moments in the near future?
I'm not ruling out the possibility of a sequel some time in the future, but in the short term I have a few other stories that I'm burning to turn into novels first.
6. Who are your favorite writers? Favorite genre?
I love reading British mysteries and particularly enjoy the series by Reginald Hill, Peter Robinson and Elizabeth George.  Also, post apocalyptic novels fascinate me; two of my favorite books are Stephen King's The Stand and George R. Stewart's Earth Abides. I also love social science fiction especially the works of Robert A. Heinlein, Arthur C. Clark and Robert J. Sawyer.
7. Are you working on another novel? Can you tell us anything about it?
Yes I am!  My next novel is set in the future.  It's the story of a graduate student in archaeology who has been accused of academic fraud. I guess since I am venturing into the social science fiction genre, I'll have to start using 'Faye E. Hicks' as my penname!
***
So now we have a bit of insight into what inspired Faye to write Defining Moments and what she sees as the topic of her next book. Faye was also nice enough to give any readers of this blog a coupon to receive a whopping 72% discount off the price of her novel. That means with this coupon  XW97P her book will be under $2.00–not too shabby! Simply enter the coupon code at the checkout. Faye has also made 30% of the book available to download and sample without any obligation to purchase, so you'll have nothing to lose if you decide you'd like to check it out.
Oh–if you do stop by and say hi to Faye, would you please tell her that Sylvia says it's her turn in our online Scrabble games?  
Thanks!